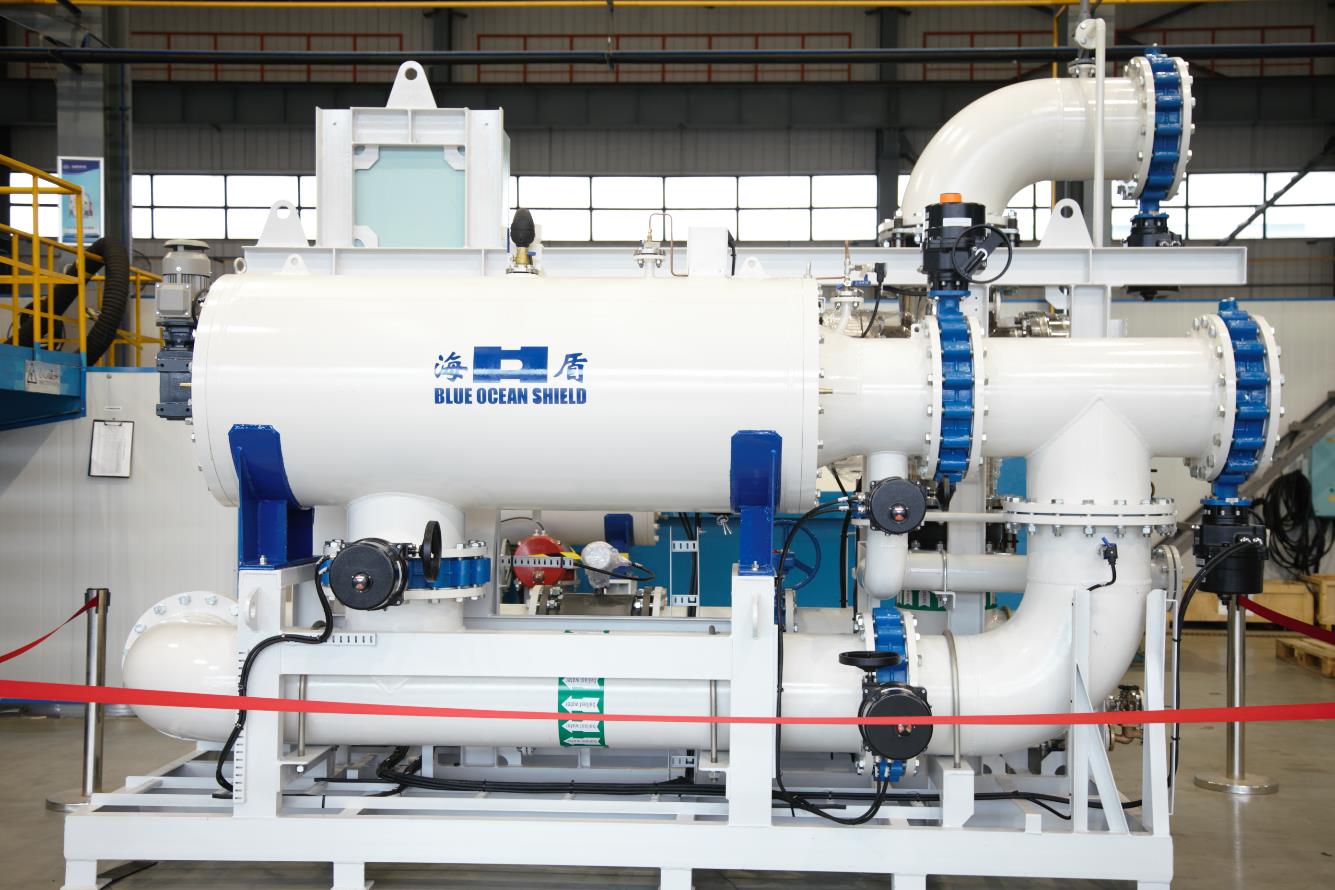 In recent years, Weihai Technology which sticks to the right path and making innovations is value-oriented throughout. They upgrade and optimize main products, expand the new business actively, enhance the capacity of independent innovation and core competence aggressively, endeavor to create technology corporations which process high-end energy-saving and environmental product's research, manufacture and system integration. They are awarded Science and Technology second prize of CHINA INSTITUTE OF NAVIGATION, the accolade of Weihai small and medium-sized technology-based enterprises, high-tech enterprises, municipal one enterprise-one technology innovative enterprise, first major technical equipment and core components products in ShanDong province successively and so on.
Optimizing technology,enhance the influence of the major products
Weihai technology BOS Ballast Water Management System use the filt and UV reacting treatment principle, it has good corporate reputation on BWMS, in order to dealing with problems like products' problems left over by history, the practical problem of customer reaction, and the requirements of cutting cost and increasing benefits, we must continue to upgrade technology, improve product property, and raise product credit and influence.
Weihai technology track the usage information of delivery products closely, conduct research on the adaptability of products with vessels actively. For problems arising in real ship applications, they provide practical solutions for customer timely and actively, complete the improvement of BOS filter suction system successively, improve suction effect, reduce manufacturing cost; They optimize the filter core and strainer structure, enlarge effective filtering screen, improve filtering effect, reduce clean filter working intensity, and convert the original IMO standard equipment (differential pressure meter, UV Power Cupboard) , make it comply with the latest USCG standard certification, avoid parts replacement. Meanwhile, according to the actual needs of different ship owners, they continuously optimize the product technology design, installation process and after - sales service. Not only optimize products, reduce costs, but also further win the customer recognition, and constantly improve the comprehensive competitiveness of products. A total of 7 applications for utility model patents, 1 invention patent, 4 authorized and effective utility model patents, and 1 invention patent were submitted by Weihai technology in 2020.
Technical breakthrough,enhance enterprise's core competence
Weihai technology strong grips the peak of BWMS installation in recent years, they internally and externally collaborate, collectively send force to, attempt to overcome the adverse effect that epidemic brings, they throw themselves into certification and evidence collection actively.
Product USCG supplemented test is the uppermost priority of Weihai technology, to guarantee the test can be passed smoothly, achieve cost conservation, based on the actual conditions of the factory, make full use of the stock and materials, according to regulatory test requirements, they design the related test platform scheme, build a test platform for the simulation experiment by themselves, provide valuable data for formal experiments, lay the foundation for smooth evidence collection. Especially during the epidemic period, technicians take online remote guidance, stick to 24 hours online, focus on the progress of the test and evidence collection. To solve the problems arising in the test, they take offline overall planning and preparation, change the design scheme in time. Under this circumstance that we can't go abroad in the period of epidemic now, Weihai technology has successfully completed the explosion protection system, USCG environmental test of integrated UV Control Cupboard, completed new G8 Certificate application and the factory inspection of classification society such as CCS, DNV, KR, RS and so on. They completed the special work of explosion-proof type recognition of DNV-GL Classification Society, etc. With holding multiple certificates, BOS BWMS can provide better service for customers.
Technology Innovation,promote value-oriented creativity
Weihai technology insists on taking innovation as the primary driving force for development, facing the main economic battlefield, major needs of customers, and people's life and health, based on improving the ability of technological innovation of enterprises, actively explore new fields, build a new development pattern, and strive to achieve high-quality development of the company.
According to the 14th Five year plan, Weihai technology developed ballast water rapid testing equipment-based the sold ballast water equipment, they completed the integrated cupboard design of ballast and control system, realize automatic control and provide convenience for the ship owner. Using the accumulation of years of self-owned technology application experience, they develop recycling CCR-AOP, which can be widely used in chemical industry, printing and dyeing, pesticides and other difficult wastewater in-depth treatment. For the marine using environment, they developed "fast mounted low pressure UV air disinfection device", it is of great significance to prevent the respiratory infectious diseases, improve the living environment and maintain the health of seamen. Weihai technology focus on the development needs, serve the long-term market for future new shipbuilding projects, develop Alternative Maritime Power Management System, it plays an important role in building green shipping and realizing the national carbon neutral.
Weihai technology will continue to carry forward the enterprising spirit, promote capacity building for scientific and technological breakthroughs, strengthen the transformation of scientific and technological achievements, remain true to our original aspiration and keep our mission firmly in mind, forge ahead in the research and development of high-end equipment for energy conservation and environmental protection, strive to create a new situation for science and technology leading.